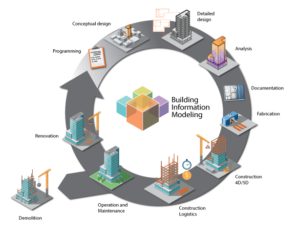 Pearls Construction LLC provides exceptional 3D, 4D, and 5D modeling services with very convincing competitive prices. Our team has the knowledge and the experience required to cover all the trades in every single project. The trades that we can cover are the Architecture, Structural, Mechanical, Electrical, Plumbing, Fire Suppression, and both Interior and Exterior finishing.
Pearls Construction also acquires top BIM coordinators who have the ability to manage any kind of construction BIM Project Coordination at any scale. Our coordinators accumulate years of experience in the fields of BIM and VDC. We promise our clients to assign for each project at least one coordinator to be only responsible for their specific project to make sure that our clients always get what they deserve. Our service doesn't only stand at modeling, we provide clash detection reports and resolutions as required on a weekly, bi-weekly or monthly basis.
Pearls Construction LLC provides 4D modeling services. We believe 4D modeling is becoming a very important tool in visualizing the whole project in a dynamic manner besides the CPM schedule. We have the privilege of handling both the Construction Scheduling and the VDC / BIM Project Coordination for as a whole package whenever required no matter the complexity of the project or its scale. We can also add the cost aspect to our model to provide a comprehensive 5D model. Our process is pretty much easy and our Business Development agents will walk you through it so you can expect our output and duration of our work.
Pearls Construction LLC promise full commitment once assigned on a project. We also promise availability on-site or at the office whenever required. We can directly assign the required qualified personnel on any job whenever required and also for BIM coordination meetings attendance. Our In-office support team is also ready to provide full assistance even if not on site at any time during the work through all time NO cost Conference calls and online meetings.
We promise you excellence in Construction BIM Project Coordination!