Delay Analysis
Delay Analysis in Primavera P6 schedule for Construction Projects
Obviously, Delay analysis in Construction is a very challenging process. Because you must prepare for facing obstacles. Obstacles aren't practically there yet according to your project's timeline, but we expect it to arise.
The Delay Analysis step is essential in most construction projects, if not all of them. In Delay Analysis, you should analyze and know the reasons and the effects of the delay on the project's progress.
Our Delay Analysis Consultants are fully certain that there isn't a project without delays, regardless of how well-planned of its aspects are. Therefore, we dedicated a whole service just for analyzing these delays. Our Consultants know the delay possible causes, impacts, and the optimal way of dealing with them.
There is a lot of aspects we consider while analyzing any expected delays. We consider also their possible consequences, and how our delay consultants could resolve them. CPM schedules and resource allocation plans are important when we are tracking a project and monitoring it. We use it whether to analyze existing delays or to avoid any upcoming ones in the future.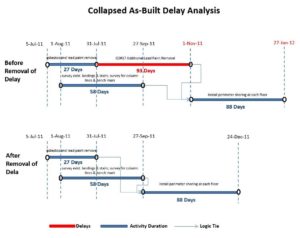 Delay Analysis Techniques in Construction:
Several delay analysis methodologies, such as: Window Analysis, Time Impact Analysis, Collapsed as Built Analysis, Impacted as planned analysis, As-Planned vs. As-Built and Impacted As-Planned.
That's why we can offer you a service that will not only make sure that we are analyzing your delays properly. But they will also work on recovering their consequences safely, in case they unfortunately arise. After the Analysis, we come up with a plan where we quantify damages, come up with options, and weigh them. In conclusion, we implement the optimal option that our experienced team of engineers sees fit most to your project.
After implementation, we put the performance of the project under observation, in order to recover any delays and minimize any chances for future ones. At Pearls Construction, LLC, we do not only ensure that we are running your project on its optimal track. But we also know the importance of keeping our clients updated with the full picture.
This is our compromise: our delay consultants will always be available; walking you through any updates. They will answer any inquiries you have about your project's expected duration. They will update you with possible delays, what their consequences may be, and how we could recover them.